What is the CACFP?
What is the CACFP?
The United States Department of Agriculture (USDA) CACFP is part of the National School Lunch Act.  This program benefits chldren from birth until their thirteenth birthday, who are cared for in a licensed or self declared, family or group child care home. The SENDCAA CACFP will reimburse licensed or self declared child care providers for meals served to children in their child care home.
The USDA has established nutritional guidelines for child care providers to follow.  In return, the provider will receive a monthly reimbursement check for qualifying meals served.  In North Dakota, this program is administrated by the Department of Public Instruction (DPI) in Bismarck, and sposored locally by SENDCAA.
SENDCAA Child Adult Care Food Program History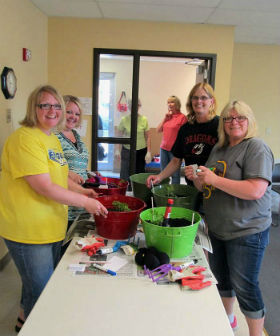 The SENDCAA CACFP has been serving chld care providers in eight eastern counties of North Dakota since 1981, making it the longest continuously running program in the State of North Dakota.
SENDCAA has a qualified staff, including a Licensed Nutritionist to assist you with planning nutritious meals. We serve more than 3000 children daily! 
Free education classes are offered several times a year, providing free credit hours that are Growing Futures approved.